________________________________________________________________________________________________
The Perfect Ride
by Rocky Rutherford
I've just hit town not a penny in my jeans
I been livin' on fig bars, coffee and beans.
I been out on the road the better part of a year
And what I been doin' just ain't no longer clear.
 
John Travis Lendingseed had never been a top a rodeo hand. He barely made enough to stay alive, living on fig bars, coffee and beans. He went from rodeo to rodeo in an old hanging down, ready to die F100 pickup truck. In good weather he slept in its bed, in bad he slept under it.

As he rattled into the fair grounds in Central City, he wondered why he did what he did. It sounded alright when he was 19 but here he was between 35 and 40, worn out, busted flatter than a tire. Where did all those years go? Why, just yesterday he left the Army after his tour in the Nam with intentions of going to school on the GI bill. But what did he do? Went straight home, stayed drunk for a month, spent most of his money on whores and the rest on this old truck. Went straight back to one night rodeos. What the hell, he had no idea what to study. Besides he felt out of place with all them college kids. Thought about going back in the Army but that wouldn't work, he didn't like being told what to do. Being free is what he liked; rodeoing is being free.

This afternoon he'd make enough to go on to Yakima…if his luck changed. Luck has a lot to do with it. You gotta be lucky in drawing the right bull. Some of the cowboys had all the luck, especially the top hands because they always seemed to draw just the right bull, a rank one that suited their riding style. Well, John Travis Lendingseed, what is your style? He didn't know and didn't have the energy to think about it. Thinking made his head hurt.
"Hey, Seed, good to see you back," said the stoned faced lady in a cockeyed cowboy hat at the entry table in the shade of an old live oak. "Whatcha ridin' in cowboy?"

"Thank you, Miss Louise, good to see you too. I reckon bull riding is about all I can afford." He forced a hand inside a front pocket and fingered around until he found the wadded limp bills. He smoothed them and laid them in front of her. She rolled it without counting and put it in her tin box and popped it shut. They always have just the right amount she thought as the cowboy gimped off toward the pens.

"Good luck, cowboy," she called after him, shaking her head.

"Thankee, Miss Louise," he mumbled back over his shoulder.

After dropping off his gear, he sat down on a splintered bench and pulled off his right boot, took out the hidden ten dollar bill then stomped the boot back on, Reckon he'd head on down to the Palace and have a cool one.
Big Sal, the Rodeo Gal, had mounted the bar and was surrounded by cowboys sousing down beer and munching on peanuts, assuaging their empty bellies. The juke box blared out a song about a sad cowboy song. Back in a darker corner the perpetual poker game cranked up.

Ah, this ain't so bad a life, John Travis Lendingseed reckoned. Everybody's happy, free. Just one big party after another. Just look at all the places he's been. Reckon he's what they call a world traveler. The beer went down cool and smooth, truly a cool one. He figured he'd keep on doing this rodeo. Why not? Nothing else he knew how to do. With four finger flicks of his slender right hand he built himself a smoke. Cheaper than tailormades these rollyaowns. Maybe later on he'd hook on a number he kept stashed in his left boot.

The more beer he drank the better Big Sal looked; the more beer he drank the better he thought he was at bull riding; the more beer he drank the better the world looked. But he also knew he had to get some rest if he was going to show in the afternoon ride. He had just enough sense to force himself back to the truck.

There, he couldn't sleep, something was wrong in his back and kept him flopping around . So he rolled out, groaning and cussing and hungrier than a preacher at

Sunday

dinner. He wished he'd eaten more peanuts. He knew Bill's Place was about a mile down the road toward Central City but he'd walk anyway, save his gas. The

noon

sun was hot so he thought about other things to keep cool while he scuffed along in his rolled over boots. If he won today he was going to buy him a nice pair of Tony Lamas.

Bill's 90 Cent Breakfast Any Time Special, laid heavy on his chest a minute after he ate it. Greasy bacon, greasy eggs, greasy grits, even greasy coffee. He was just starting his second cup when Cleatus Coggins came in. Cleatus, a loser, drifted from rodeo to rodeo making just enough to stay alive and drunk. He stunk bad.
"Jesus," John Travis Lendingseed said, "you smell like a brewery."

"Nuthin new, huh, Seed?"

"You really don't give a shit do you, Cleatus?"

"Nah, Seed, no use pretending. Want me to move to another table?"

"Hell, look who's talkin'. I damn sure ain't nuthin' to write home about."

They snickered, drank the greasy black mess, smoked Bull Durham, and swapped bull riding lies. A half-drunk cowboy hung over the juke box trying to sing along with a sad cowboy song.

"Damn," John Travis Lendingseed said, "that's bad."

"That cowboy sings like I ride," said Cleatus. Finally, a big bellied man in baggy ass
levis came from the back somewhere, snatched up the wannabee Hank Williams and threw him out into the parking lot.

Quietly they drank free coffee until trade picked up and big belly said he was sorry but they needed the table space.

Behind the chutes John Travis Lendingseed hung his gear then perched his skinny ass on a top rail to watch the show. The catch in his back kept aggravating him. Seems like the older he got the more funny aches and pains he got. Man, that Cleatus stunk, he thought, sniffing himself. As soon as he got his ride in he was going to find a creek and take a bath. Right now he needed to relax, get his mind right for a good ride, get his mind in the middle. He wouldn't tell nobody but poetry relaxed him. Well, what he called poetry. Real poets would call it drivel, he was sure, but he just liked the sound of his own words as they chased visions inside his head. Like this one he had been working on:
Cowboys called him the Iron Man back in his day
'Cause he'd rode in 'em all, Calgary to the San Francisco Bay
If he could just finish it maybe he could sell it to a magazine or make a song out of it. How about:
Top notch buckles, bucks and ladies he's had 'em by the score
He's the all around blue bell wrangler cowboy nineteen seventy four.
He shook his head and tried to remember the words but they faded and he was back to the first line. Shit, he wasn't no poet no way. He was a bull rider. Piss on this. He was aware of the sun burning his back.

Out of chute number one ridin' Dyn-o-mite, the Silver Valley Kid is a ridin' hard tonight. The speakers trembled and roared, cacophonous in the dusty hot afternoon. Cowboy after cowboy busted out of the chutes on slobbering, snot slinging, shit splattered bulls, some spinning, some blowing, all straining to get the crazy bastards off their backs..

"Man's got to be an idiot to ride one of them bulls," an old hand behind the chutes said to nobody in particular.
Out of chute number one ridin' Dy-no-mite, the Silver Valley Kid is a ridin' hard tonight.
John Travis Lendingseed, you ready, cowboy? John Travis Lendingseed busted ass to chute number one, his head plumb cleared of anything but riding Old Lightening Rod. Stay in the middle he kept telling himself as he made his wrap and honkered down for the ride, stay in the middle.
II
"Bullshit," his daddy said on the other end of the line. "There ain't never been no one hundred point ride. You drunk again, boy?"

"I'm telling you, Pop, I just did it. Not mor'n a hour ago. Right here in Central City.

Two judges, one on each side of the arena. I don't even know who they are. I knowed I had a good ride from the git go. All I was hopin' for was traveling money. Pop, it's a perfect ride."

It got quiet on the other end. "Pop? You there?"

"We'll talk about it when you git home, John Travis" Click.

How do you believe you are the first person in history to do something? Rodeo is two, three hundred years old, and he, John Travis Lendingseed, five foot five, one hundred twenty pounds just rode Old Lightening Rod, World Champion, unrode, two thousand pound rankest bull in the whole world for a perfect 100 score...a perfect ride. But something didn't fit: try and try, he could not remember the ride. A dream, it was over before it started.

They partied all night until the

Sunday

morning sun found the Palace littered with drunk, sick, puking cowboys, buckle bunnies, and busted heads. John Travis Lendingseed stepped over and around the mess and tottered into head splitting sun. In his back pocket his just won buckle pressed cool against his skinny butt. In his front pocket he had one hundred and twenty dollars, what was left of last night's purse. But he could not remember the ride. The perfect ride and he couldn't remember it.
And maybe just maybe I can look up Patsy Jean
She said she loved me, she said she'd wait.
But, Lord, my thinkin' sure is gittin' kinda lean
'Cause I ain't seen Patsy Jean since nineteen sixty eight.
He sand crabbed to his pickup, rolled under the bed, and slept in drunkenness. When he woke he rolled a smoke more to cut the taste than satisfy a nicotine urge. On his back he smoked and listened to the trucks pulling out, cowboys heading to another rodeo. He wondered if they would remember his perfect ride. Now, John Travis Lendingseed would be famous. And if a dude is famous he gets rich. In a few weeks, when the money came rolling in, he would buy the spread his Dad always wanted, a thousand acres, or more, with nothing but cattle and horses. No chickens and goats, none of that weak ass shit. They'd call it the 100 PRR, the 100 Perfect Ride Ranch. No more one night stands, broken down arenas, sleazy rooms, when you could afford them. No more sleeping in the bushes and in and under dying pickups. He would have time to write, to become a big time cowboy poet. After all he was the cowboy who made the perfect ride, he knew all about it.
Now when

tomorrow

gits the final whistle on me,
Western cut, sanforized, slim-fit and trim is what I'll be.
Lightening singed his eyes, thunder buffed his eardrums, even more when he tried to remember the ride. He could remember the words to a half ass poem, but he could not remember a perfect ride. How was the world going to remember it if he couldn't? Some of the poem poked through, something about fig bars, coffee and beans. But the perfect ride stayed where it happened.

From perfection everything went to shit city, twenty two straight buck offs, five broken ribs, a broken ankle, broken wrist, and torn ligaments all over. Not a penny made. The applause withered as fast as his money. No sponsors clamoring for his name, no products wanting his signature, no fan club raising money. Folks even began to question the ride, some didn't think it happened. Some cowboys took it personal, said it was a good ride but no way a hundred. No matter that it did happen, the rodeo world would not accept it. It's like saying the Ten Commandants ain't. The perfect ride ground John Travis Lendingseed into the dirt more than any 2000 pound rank bull he had ever ridden, stomped the life right out of him. Finally, he had to give it up, go home. The cowboy who rode the perfect ride, a loser, rode off into the sunset with forty seven dollars and fifty two cents.

Highway 287 into Dillon is the kind of highway you like to travel when you are in a hurry in the middle of the night. Nothing. Flat, black, desolate. You can open it up, put the pedal to the metal, let it all hang out, even in a pickup that is almost as old as you are. Shoot, if the moon's shinning you can save your battery by running without headlights. You can tank up on beer at Hank's Plank in Alden and drive all the way to Dillon shit faced in the moonlight and never see another car.

There is a picture of John Travis Lendingseed hanging next to the men's room in Hank's Plank. It shows a young cowboy at a junior rodeo holding his first bull riding buckle, A buck toothed smile beams from ear to ear. Just above the picture is tacked an aging newspaper clipping entitled "100 The Perfect Ride."

April that year was cool with some icy patches on 287 just outside Dillon where the road goes through a cut bank. A truck could hit the ice and shoot out the other end like a rank bronc trying to shed a saddle after a buckoff. John Travis Lendingseed hit that ice, some say at over a hundred, at least his F100 was wide open, lost traction and shot through the air upside down like old Dy No Mite coming out of chute number one. After landing on its top and sliding for a thousand yards straight down the yellow stripe it hit the dirt, caught traction and rolled up into a ball of smoking hot scrap.

About daylight a rancher, Flip Woosley, came upon the mess while checking his fences. Smoke still rose from the blackened ball. He drove home and called the cops then went back and sat in his truck and watched over the wreck. Wasn't no use in looking inside it, nothing could live in that, not even a piss ant. A while later they came with a wrecker and hauled the whole thing to Dillon. By this time several cowboys had heard about it and they figured it was John Travis Lendingseed, old Seed.. A couple of them cried as the mess jangled away.

"They'll have to cut ol' Seed,out when they git to Dillon," a cowboy said.

"I swear," said another, shaking his head.

"The Perfect Ride," said another, wiping his eyes, "What good did it do him?"

Some time later an old cowboy hung a handwritten poem next to John Travis Lendinseed's picture at Hank's Plank. It wasn't much but it was the least he could do:
Now when

tomorrow

gits the final whistle on him
He'll still be Western cut, sanforized, slim, fit and trim,
He's the blue bell wrangler cowboy in his brass butted jeans,
Blue bell wrangler cowboy livin' on blue bell memories.
The End
__________________________________
Email dewonthekudzu@gmail.com for information about book reviews or short stories on the site



________________________________________________________________________________________________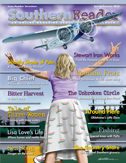 Dear Readers,
SouthernReader.com is a fantastic quarterly short story magazine that I have not only followed for years, but am very proud to have been published in! The stories are great and the illustrations are out of this world! Please take a few moments to check it out and share it with your friends.

__________________________________
Email dewonthekudzu@gmail.com for information about book reviews or short stories on the site



________________________________________________________________________________________________
Idgie Says: I am VERY pleased to be able to announce that one of my contributors of lovely stories over the years,
Scáth Beorh,
has just signed a 2-book contract with Emby Press for his Middle Grade novel October House,

about a clan of foster children from Northern Irelan

d;

and also his Dark Horror novel Blood, an epistolary novel with similarities to Bram Stoker's Dracula.

This novel has been commissioned by Emby Press and

also concerns vampirism, set in Ireland.
October House will be released this coming October (2014) and Blood will be released in October 2015.
I am so pleased for him and excited to be able to say that "I knew him when...."
I hope you enjoy this current short story from him as much as I did.
___________________________________________________
My daddy was fond of taking me fishing on Stone Lake, where we'd fish for bluegill bream and catfish. I had to be real quiet, though. I couldn't scuffle my feet in the boat. And I couldn't talk either. A whisper every now and again was alright, but it had to be about fish. And not just any fish. I liked sharks, but those were off limits while freshwater pole fishing. I told everybody I wanted to be an chondrichthyologist when I grew up. They usually just smiled and looked over at whatever parent was present, usually my mama, who would smile back and roll her eyes and shrug her shoulders and bask in the bookworminess of her weird little boy.
Daddy was a hunter, even when he was fishing. The strong, silent type (I take after my soft, chatty mother), once we had slipped out over the weedy green waters and were stalking our unseen prey, there was no horseplay nor idle chit-chat allowed. We were there to fish; to master the elements; to bring home not one or two denizens of those murky waters, but a whole string; a freezer full, which we would clean and freeze in plastic milk cartons against the unforgiving Winter months when cold showers are preferred to fishing on cold, windy lakes .
One cool October morning daddy and I went without a boat, so we 'borrowed' one from a fisherman who wasn't there. I was really worried about that, but Daddy said it was okay, as long as we brought it back in the same condition we had found it in, or better. Or better? He taught me to scull that day, and said I did real good. I felt proud.
The next weekend we took a long road-trip out to an old well which Daddy had drunk out of when he was a boy. I felt excited about that. The way he painted the good old days, I longed to go back and spend time with him when he was a boy; run through the woods with him; hop trains with him; work at the docks heading shrimp with him. Anything. I didn't care. Just as long as I could spend time with him.
When we got to the wooded area where the well was, we realized we hadn't brought anything to drink out of. But on the rim of the well sat a tall wax paper cup somebody had left. Daddy said the sulfur in the water would kill the germs, if there were any to kill. That sounded right to me. When I think of those moments in the cool "fishing weather" breeze of that morning, I can still feel the icy water burbling down my throat. I can still smell the strong scent that was a little like rotten eggs, but not too much. That day we also found some wild scuppernongs. While we sucked the meat out, we checked to see how far we could spit the skins and the seeds. Daddy won, but he was a lot taller than me. His went soaring yards away. Mine only went a few feet.
Not long after my sculling adventure on Stone Lake, I learned how to drive in our brand-new '74 Impala. Daddy took me to part of the Old Spanish Trail. Daddy was long-suffering with me as we sped along haphazardly in that 400 horse power monster across big clumps of grass and uneven red bricks which I imagined were being quickly lain down in front of us by Spanish soldiers who hoped we would be patient enough for them to finish their job. Decades later I was to read somewhere that the road was actually begun in 1915, to connect New Orleans to Florida. Sometimes it's just better to never learn the truth.
A year earlier, to the day, (it was my birthday) Daddy had taken me to an 19th-century farmhouse ruin in the backwoods of railroad and steamboat town of Pollard, Alabama. There as we moved carefully through the old boards with nails in them, I found a hand-made brick. Daddy said I could take it with me, as a souvenir. I proudly covered my birthday surprise in cellophane paper so it wouldn't wear away. For years I used this brick as a doorstop in my bedroom. The last time I ever saw it, sometimes in the mid-Eighties, the paper had been taken off it, and it lay next to the house in the back yard.
A few months after my driving escapade along the Old Spanish Trail, we went to another part of the woods near Holt, Florida and stumbled across a briary pig-trail running through a tract of land filled with long-leaf pine and oak. That day Daddy showed me the difference between water, white, red, live, scrub, and Spanish oaks; and taught me how to call like a bobwhite and a whippoorwill. We also found an old door laying over a pile of sticks and trash.
"Hey, hey! Will ya look at that! Wonder what's under that!" Daddy cried out. He was always a little boy again when we went out on adventures in the woods. We had stopped bringing my little sister Pat after the very first time. She hated the woods and stood at the head of the trail and cried until Daddy got so disgusted with her that we got back in daddy's fishing truck and drove straight home... at least 60 miles.
"Careful about snakes, daddy," I warned him as I stood frozen, waiting for him on the very safe pig-trail. I just knew he was going to get bit. I wasn't about to go out in that jungle! He kicked at the old rotten door, stomped on it a few times, and then stood up and waited.
"See. That's what you do," he said. "It'll run any ol' snake outta there, but you gotta make some noise."
"What kinda noise, Daddy?"
I was imagining the biggest rattlesnake in the world. Fangs as big as the fingers Daddy playfully jabbed at all us kids, pretending his hand was a snake head, calling his fingers 'fangers'.
"Noise like I just

made

. Weren't ya watchin' me?"
His voice was serene. Very kind.
"Now, them ol' water moccasins," he said. "They're another story altogether. They won't move when you make noise. No sir. You have to get a ol' stick or somethin' to move 'em with. A long one, though. They won't just bite you once. They'll bite you 'til your dead."
My adam's-apple was stuck in my throat, and I didn't even have a fully grown one yet. BITE YOU 'TIL YOU'RE DEAD.

BITE YOU 'TIL YOU'RE DEAD.
"Hey-hey! Look-a'here! Look what we got here!"
I was half way back to the car.
"Where you goin'?" Daddy asked me. "Come on back here! Look what we found!"
I crept gingerly back down the shady path until I got just behind my daddy. I was still expecting a snake, a dead snake, a thousand baby snakes, a snapping turtle... something dangerous.
But no. Daddy had found us a 1920's typewriter. Man, he was so proud of that thing! So while I watched out for rattlesnakes, Daddy moved all the debris and sticks and the door which had been used to cover the machine. We loaded it up in the trunk, took it home, cleaned it up with some of Daddy's brushes he had gotten from NASA when he had worked for them as an aerospace engineer.
The next day we drove into Downtown Pensacola and ran down a ribbon at an out-of-the-way typewriter shop. This was one of those places where the friendly men talk about fishing and cars and the good ol' days. I breathed in the clean, rustic scent of lubricating oil and leather. The store smelled like the barber shop and the shoe repair store in Flomaton, but nothing like my Uncle Paul's bait shop in South Flomaton where we got earthworms and crickets and blood bait.
The men working at the repair shop were nice. One of them showed me the inside workings of a typewriter. The flywheel. The gadget flip. The jam-keys. The thumb-snap. The finger-pinch. The paper-rip. And, of course, the ribbon we had come to buy. Daddy laughed good-naturedly. The men all smiled and called me a fine young man.
As I would sit pecking away on that machine into the wee hours of the morning, typing up my poetry and stories, I knew that I would make my living as a writer one day.
Not only did my daddy give me a love for people, he also gave me a burning desire for exploration which has taken me around the world, and through many a forest. I hope he is proud of the woodsman I have become; that he always hoped I would be.
Not long ago Daddy went fishing with some of his boyhood buddies. He'll be back for me one day, though. He needs me to scull the boat.
__________________________________
Email dewonthekudzu@gmail.com for information about book reviews or short stories on the site



________________________________________________________________________________________________
Not a review but a shout out for a book that quite a few of you might want to grab for the summer pool/beach time. Thought I would share with the readers. EXCERPT BELOW!
Idg
______________________________________
St. Martin's Griffin Trade Paperback
Book Description:
As teenagers in the seventies, Tully Hart and Kate Mularky were inseparable. Tully, with her make-up and her halter tops, was the coolest girl in school. Kate, with her glasses and her high water jeans, was the geeky outsider. But chance and circumstance brought them together and through the decades they were devoted to each other. This was the story of Tully and Kate which began on a quiet street called Firefly Lane. Best friends forever.

But sometimes stories end, and we have to find a way to begin again.

Now, years later, Tully is a woman trying to deal with the loss of her best friend. She wants to fulfill her promise to Kate—to be there for Kate's children, but it's a promise she has no idea how to carry out. What does brash, lonely, ambitious Tully know about being part of a family?

Kate's daughter, sixteen-year-old Marah Ryan, is as lost in her grief as Tully is...until she falls in love with a young man who makes her smile again and leads her into his dangerous, shadowy world.

Tully's mother, Dorothy Hart, is an unstable woman who abandoned her child too many times in the past and ultimately broke her heart. Now, when Tully is in danger of losing everything and is more vulnerable and alone than she's been since she put those rough childhood years behind her, Dorothy returns once more, desperate for another chance to be a good mother. But can she be trusted this time? To help her daughter, Dorothy must face her darkest fears and reveal the terrible secret in her past—only then can she become the mother her wounded daughter needs.
In Fly Away, tragedy will bring these three women together and set them on a poignant, powerful journey of redemption. Each has lost her way and they will need each other—and maybe a miracle—to transform their lives…
____________________________________________________________

Chapter One
September 2, 2010
10:14 pm
She felt a little woozy. It was nice, like being wrapped in a warm-from-the-dryer blanket. But when she came to, and saw where she was, it wasn't so nice.

She was sitting on a closed toilet seat in a restroom stall, slumped over, with tears drying on her cheeks. How long had she been here? She got slowly to her feet and left the bathroom, pushing her way through the theater's crowded lobby, ignoring the judgmental looks cast her way by the beautiful people drinking champagne beneath a glittering, nineteenth century chandelier. The movie must be over.

Outside, she kicked her ridiculous patent leather pumps into the shadows. In her expensive black nylons, she walked in the spitting rain down the dirty Seattle sidewalk toward home.

A bright pink Martini Bar sign caught her attention. A few people were clustered together outside the front door, smoking and talking beneath a protective overhang.

Even as she vowed to pass by, she found herself turning, reaching for the door, going inside. She slipped into the dark, crowded interior and headed straight for the long, mahogany bar.

"What can I get for you?" asked a thin, artsy-looking man with hair the color of a tangerine and more hardware on his face than Sears carried in the nuts and bolts aisle.

"Tequila straight shot," she said.

She drank the first shot and ordered another. The loud music comforted her. She drank another straight shot and swayed to the beat. All around her people were talking and laughing. It felt a little like she was part of all that activity.

A man in an expensive Italian suit sidled up beside her. He was tall and obviously fit, with blond hair that had been carefully cut and styled. Banker, probably, or corporate lawyer. Too young for her, of course. He couldn't be much past thirty-five. How long was he there, trolling for a date, looking for the best looking woman in the room? One drink, two?

Finally, he turned to her. She could tell by the look in his eyes that he knew who she was and that small recognition seduced her. "Can I buy you a drink?"

"I don't know. Can you?" Was she slurring her words? That wasn't good. And she couldn't think clearly.

His gaze moved from her face, down to her breasts, and then back to her face. It was a look that stripped past any pretense. "I'd say a drink at the very least."

"I don't usually pick up strangers," she lied. Lately, there were only strangers in her life. Everyone else, everyone who mattered, had forgotten about her. She could really feel that Xanax kicking in now, or was it the tequila?

He touched her chin, a jawline caress that made her shiver. The boldness of it, just touching her; no one did that anymore. "I'm Troy," he said.

She looked up into his blue eyes and felt the bone crushing weight of her loneliness. When was the last time a man had wanted her? She couldn't even remember.

"I'm Tully Hart," she said.

"I know."

He kissed her. He tasted sweet, of some kind of liquor, and of cigarettes. Or maybe pot. She wanted to lose herself in pure physical sensation, to dissolve like a bit of candy.

She wanted to forget everything that had gone wrong with her life, and how it was that she'd ended up in a place like this, alone in a sea of strangers.

"Kiss me again," she said, hating the pathetic pleading she heard in her voice. It was how she'd sounded as a child, back when she'd been a little girl with her nose pressed to the window, waiting for her mother to return. What's wrong with me? that little girl had asked anyone who would listen, but there had never been an answer. Tully reached out for him, pulling him close, but even as he kissed her and pressed his body into hers, she felt herself starting to cry, and when her tears started, there was no way to hold them back.
September 3, 2010
2:01 am
Tully was the last person to leave the bar. The doors banged shut behind her; the neon sign hissed and clicked off. It was past two now; the Seattle streets were empty. Hushed.

Traffic made the pavement hum beneath her bare feet. She made her way down the slick sidewalk, a little unsteady on her feet. A man had kissed her - a stranger - and she'd started to cry.

Pathetic. No wonder he'd backed away.

Rain pelted her, almost overwhelmed her. She thought about stopping, tilting her head back and drinking it in until she drowned.

That would be good. Drowning.

It seemed to take hours to get home. At her condominium building, she pushed past the doorman without making eye contact.

In the elevator, she saw herself in the wall of mirrors.

Oh, God.

She looked terrible. Her auburn hair - in need of coloring - was a bird's nest, mascara ran like war paint down her cheeks.

The elevator doors opened and she stepped out into the hallway. Her balance was so off it took four tries to get her key into the lock. By the time she opened the door, she was dizzy and her headache had roared back to life.

Somewhere between the dining room and the living room, she banged into a chrome side table and almost fell. Only a last minute Hail Mary grab for the sofa saved her. She sank onto the thick, down filled white cushion with a sigh. The table in front of her was piled high with mail. Bills and magazines. Junk mail.

She slumped back and closed her eyes, thinking what a mess her life had become.

"Damn you, Katie Ryan," she whispered to the best friend who wasn't there. This loneliness was unbearable. But her best friend was gone. Dead. That was what had started all of it. Losing Kate. How pitiful was that? Tully had begun to plummet at her best friend's death and she hadn't been able to pull out of the dive. "I need you." Then she screamed it: "I need you!"

Silence.

She let her head fall forward. Did she fall asleep? Maybe...

When she opened her eyes again, she stared, bleary-eyed, at the pile of mail on her coffee table. A Star magazine lay on top - a small, business card size photograph of her was in the upper right corner. Beneath her name was a single, terrible word.

Addict.

She reached forward, grabbed the magazine. It was a small story; not even a full page.

The Real Story behind the rumors.
Aging isn't easy for any woman in the public
eye, but it may be proving especially difficult for Tully Hart, the ex-star of the once phenom talk show The Girlfriend Hour. Ms. Hart's goddaughter, Marah Ryan, contacted Star exclusively. Ms. Ryan, 20, confirms that the fifty-year-old Hart has been struggling lately with demons she's had all her life. In recent months, Hart has "gained an alarmingamount of weight" and been abusing drugs and alcohol, according to Ms. Ryan--
Marah.

The betrayal hurt so badly she couldn't breathe. She read the rest of the story and then let the magazine slide to the floor.

The pain she'd been holding at bay for months, years, roared to life, sucking her into the bleakest, loneliest place she'd ever been. For the first time, she couldn't even imagine crawling out of this pit.

She staggered to her feet, her vision blurred by tears, and reached for her car keys. She couldn't live like this anymore.

Copyright @ Kristin Hannah 2013
____________________________________
KRISTIN HANNAH is the New York Times bestselling author of twenty-one novels. A former lawyer turned writer, she is the mother of one son and lives with her husband in the Pacific Northwest and Hawaii. Visit her at

www.kristinhannah.com

or on Facebook.
__________________________________
Email dewonthekudzu@gmail.com for information about book reviews or short stories on the site



________________________________________________________________________________________________
A Common Day At The Hospital
It's nearly the end of the year. Wind screams from the north, dropping the temperature rapidly. Birds glide with the currents around the treetops. Water from the bay reflects the azure sky spotted with a few puffy clouds. The natural elements blend with the major highway, clogged with traffic. A hospital sits nearby. Cars, taxis and valets swarm into the driveway and parking lot. A siren pierces the air as an ambulance arrives. Double glass doors open and close automatically as people, some of whom carry gifts and balloons, scurry into and out of the seven-story structure. A few wheelchairs are spotted. Medical outfits in various colors navigate in different directions. Urgency fills the air.
Although it's three o'clock in the afternoon and the sun is still shining, the room is shrouded in darkness. The window shades don't permit a single ray to enter. The door is cracked open, allowing a small shaft of light. Concrete silence keeps everything frozen. The sterile smell wafts through the air. A beeping sound pulses as steadily as a heartbeat. Monitors around the patient cast an eerie, blue glow.
The vital signs of Arturo Gonzalez, who appears to be in his late sixties, are vigilantly scrutinized. So is his identification card, which shows an already-deceased person. This has the medical staff and a police officer baffled.
Arturo lies in bed, in a coma due to toxic substances that built up in his blood, affecting his brain function.
The machines are his only companions, casting some light on his yellowish, sunken face. Straw-like gray hair is scattered across the top of his head.
The dark shadows under his crepe-like eyelids are surrounded by prominent cheekbones while his skin seems to liquefy over his facial foundation. His porous nose allows two rubber tubes to penetrate it, administering the vital oxygen that keeps him alive.
Both of his jaundiced, bruised arms lie next to his body. A large IV line protrudes from a vein in each one, blending with another that is attached to a bag full of plasma hanging on a stand near his bed. A wide rubber band wraps around his left bicep and occasionally fills with air, squeezing slowly and gradually letting go. The monitor doesn't wait to display his blood pressure reading. On his right arm's index finger is a sensor with adhesive tape which leads to a thin, orange cable that blends with five others emerging from various parts of his skeletal chest. In contrast, his belly, enlarged with body fluids coming from leaks on the surfaces of his liver and intestine, looks gigantic. The skin is stretched to its limit, becoming more transparent. Blue veins and red dots are drawn on its surface, as Arturo's blood pressure increases and blood accumulates in the principal veins. His blood must find new ways back to the heart, filling up the tiniest vein. A
small catheter hangs from his belly. It is used to perform paracentesis, a procedure that connects it to a system which slowly drains the accumulated fluids into bottles.

His legs, covered by a light blanket, are also swollen with fluid.
Gonzalez is homeless and was found lying in the street, gravely ill due to his liver, which was diagnosed with a very advanced case of cirrhosis. An illness provoked by overindulgence in alcohol, which injures and kills the cells in that organ. As testimony to the diagnosis, a half-liter of whiskey was still near him. Every time the organ's cells reproduce, scar tissue replaces normal liver tissue.
The scar tissue damages the vital organ's normal structure, which upsets the normal flow of blood through it. Also, less protein than normal is produced, leading to water buildup. With the filter blocked, his whole system is clogged.
An ambulance took him to the hospital, thanks to a good Samaritan who called authorities. His doctors, after performing several tests, aren't even considering a transplant because of its complications with other organs. They have exhausted all other options. They are worried; their hands are tied. In other words, he's terminal…and alone.
Time stands still, waiting to move forward again. But there's no sign to continue. Silence still seizes it. His respiration is heard as a quiet reprimand to a loud noise. Softly…softly…it stops.
In the middle of this emptiness, slowly a bright light appears in front of his bed, piercing through his eyelids and provoking a sense of discomfort in his eyes, enough to wake him. He tries to open them but the brightness doesn't allow it. Through his eyelashes, he can observe a figure standing near his bed, watching him. A great fear possesses him but instantly he hears a smooth voice saying, "Don't be afraid."
The light diminishes slightly, allowing him to fully open his eyes to see who's standing at the foot of his bed. Shocked by what he sees, he trembles from head to toes. He exclaims: "My God!"
Again the light brightens, blinding him. He hears the voice again. "Are you tired?"
"Yes, sir, very tired," he responds.
"Come with me, I want to show you something," the voice says.
He sees a hand in front of his face, and with real effort he stretches his body, reaching out to grasp the hand. When he comes into contact with skin, he gets a strong grip, and something very strange happens. The whole room lights up, and he moves easily to sit at the edge of the bed. The pain has vanished. But the machines in the room start to sound louder. As the hand pulls him from the bed, he finds himself with both feet on the floor, slowly standing up. Tentatively he puts one foot in front of the other.
With every step he takes away from the bed, the monitors' sounds sharpen and increase their speed. Although he has his eyes open and everything in the room is lit, he can't see his companion. He can only feel the hand guiding him. When he walks through the door out of the room, the sensors and monitors are already out of control. They immediately fuse into just one drawn-out "beeeeeeeeeep."
Now he's in the hallway. Several medical assistants and nurses are racing down the hallway, passing by him. They look alarmed. He jumps to the side to avoid being trampled. "Whew," he exhales.
He watches where they are running to. He sees a police officer standing at the nurses' station. He asks: "What is happening? A fire?" But there's no answer, although the officer moves his head to the left and right with curiosity on his face.
Still pulled by his companion, Arturo continues to shuffle down the hall. He has no time to watch the medical staff enter his room. He slowly disappears around the next corner.
The End
__________________________________
Email dewonthekudzu@gmail.com for information about book reviews or short stories on the site